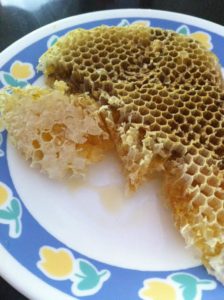 Two to three months back I ventured forth to keep a bee-hive which , with great persuation I got Dr Namgyal to part with , who loved his bees .
Darned if I knew anything at all about bee-keeping . I just wanted my village folk to get inspired to follow suit .
Three months down the line I had a bee-keeper come to inspect the box. It has to be done at night fall when the bees retire.Opened the lid gently and we found some stuck to the underside and then we discovered that they had eaten through the gunny sack covering, which is kept to hold them within the box !
Now that was a mystery !
To unravel that mystery the bee-keeper ever so gently lifted the gunny sack and what do we discover ? A wax hive hanging below that,  stuck to the sack .
The box was a-buzz as the colony of bees seems to have grown almost three folds .wow ! That's some honeymoon holiday they had in this cottage in Kasol
To allow them space part of the honey comb was removed which had a few eggs and maybe a spoonful of honey .
Novice , sorry , utter novice that I am , i was asked to make an offering of a bit of that hive to the Gods in the heavens above .In Kasol we have a small temple of Durvaasha Rishi aswell . The offering was to be made towards the skies to any God except Durvaasa Rishi as he gets angry at this offering, nor can the offering be made to the Parvati ma the flows by in the form of a river .
Save