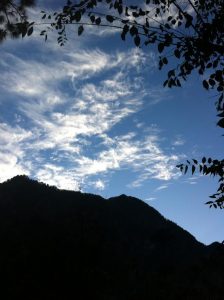 Kasol was never known to be hot , and still , thankfully it does not get hot in summers . Just a little warm in sun ; but in shade the refreshing cool breeze, kissed by the deodars which one experiences, touching ones cheeks, has such a balming effect .
Romancing the Monsoons in the Hills
But then , there are many like me , who at the sight of first monsoon clouds dance with joy.
Fascinating clouds in myriad colours and shapes that suddenly make their appearance from behind one mountain or another .
 Lo and behold the sky gets overcast, the pitter-patter of rain drops on tin roof sound like some kind of music. The foliage smiles and every thing surrounding you starts looking so fresh.
To top it all having 'Chai and Pakoras' sitting in the verandah of my '
Cottage Once Upon a Time
' in Kasol  : or sitting under the leaking roof of a small roadside 'chaiwala's dukaan' completes the script.