Himachal Pradesh, dazzling with amazing tourist spots is an important tourist centre in the northern most part of India. Superb flora and fauna of Himachal Pradesh with alluring lakes, sky kissed mountains and beautiful rivers makes the land a real paradise on earth. This tourist place is equipped with versatile leisure activities like para gliding, river rafting, mountaineering and golf which make the spot an ideal location for spending your spare time. Himachal Pradesh is one among the favourite destinations of nature lovers and adventure lovers. Ancient monasteries, historic temples and churches are top attractive spots coming under the list of Himachal holiday packages. Himachal Pradesh, else referred as Switzerland of Asia owns spectacular places like Kufri, Dalhousie, Khajjiar, Manali and Dharamshala. Himachal Pradesh enriched with enchanting tourist spots was earlier known as Dev Bhumi literally meaning the Abode of Gods.
Kasol, A tourist destination nestled in the lap of the mountains, dominated by the personality of Parvati, the river , and snow capped peak that stands tall at the helm, was once a quiet little hamlet . Today it is dotted with shops and eateries that serve multi-national cuisines : Cyber cafes , travel bookings , money exchanges and an ATM : Hotels and homestays to suit different kinds of tourists , back packers and laid back holiday makers. It retains its beauty and charm , none the less.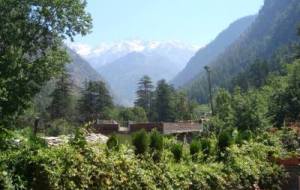 Coordinates 32.010710° N, 77.313736° E  Altitude – 5,500 ft. Above mean sea level.
Weather ( Kasol ) – year-round temperature chart and year-round precipitation charts are available on the inter-net . Since the weather keeps varying , it is best to check it out on the internet.
Warm to very warm clothes are required depending on the season , and it also varies from person to person .
TO REACH KASOL – YOU CAN :
Fly to kullu (Bhuntar)from Delhi or Chandigarh and then cover the 32 km stretch by a taxi or local bus.
Reach the railhead at Chandigarh and travel by car/taxi taking either Chandigarh-Ropar-Kiratpur-Swarghat-Bilaspur-Sundernagar-Mandi-Bhuntar-Manikaran route , OR take Chandigarh-Shimla-Ghaghas bridge-Sundernagar-Mandi-Bhuntar-Manikaran route OR Chandigarh-Dharampur-Sabathu-Kunihar-Piplughat-Ghaghas bridge-Sundernagar-Mandi-Bhuntar-Manikaran route.
Reach the railhead at Pathankot and cover the journey by road taking Pathankot-Kangra-Palampur-Jogindernagar-Mandi-Bhuntar-Manikaran route.
Take an overnight Luxury Volvo bus from New Delhi to Kullu, get off at Bhuntar and take a taxi or local bus to Kasol.
Shimla, beholding attractive centres like The Mall, Chadwick Falls, Glen and Jakhoo Hill is one of the favourite destinations included in Himachal Pradesh packages. This popular hill station enriched with snow capped mountains was declared as the summer capital of British Raj in India. Shimla, equipped with exotic sight seeing options presents a thrilling tour trip package for tourists. This tourist destination lying in the north western ranges of Himalayas with fabulous natural beauty grab the hearts of tourists. Chail, located in the Shiwalik region of Himachal Pradesh is another favourite destination explored in Himachal Pradesh. Chail Palace, dazzling with beautiful architecture captures all eyes of visitors. This enchanting spot in Himachal Pradesh situated at an altitude of 2250m higher than Shimla can be referred as the hiker?s paradise. It is also well known as the former summer capital of His Highness Maharaja Adhiraj Bhupinder Singh of Patiala.
Dalhousie, composed with colonial era building is one among the tourist places explored in Himachal holiday packages. This striking tourist spot was built by the British governor ? general Lord Dalhousie in the year 1854. Subhash Baoli, Satdhara, The Catholic Church of St Francis and Jandhri Ghat are some of the attractive spots located in Dalhousie. Bara Pathar temple, situated in the middle of thick dense forest is another tourist spot in Dalhousie. Annual fair conducted in Bara Pathar temple during the month of July attract thousands of tourists to this destination. Panoramic Panchpula and Kalatop wild life sanctuary are other famous tourist places in Dalhousie. Pragpur, situated at an elevation of 2000 feet above sea level is a best known tourist spot coming under the list of Himachal holiday packages. Beautiful natural landscape of Pragpur with several streams is a perfect site to explore Kangra valley.
Manali, located in the Beas River valley is an enthralling tourist place covered in Himachal holiday packages. This tourist place is well known for Buddhist monasteries or shiny gompas. Leisure activities like mountaineering, hiking, skiing and rafting plays a major role in enhancing Himachal tourism. Rohtang, Manikaran, Solang Valley or Snow point, Naggar Fort and Hidimba Devi Temple are some attractive centres near Manali. Chamba beholding ancient temples, Solan and Dharamshala are other tourist places visited in Himachal holiday packages.